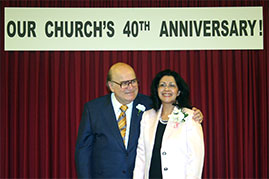 R. L. Hymers, Jr. is a graduate of the California State University at Los Angeles (B.A.), Golden Gate Baptist Theological Seminary, Southern Baptist (M.Div.), San Francisco Theological Seminary, United Presbyterian (D.Min.) and Louisiana Baptist Theological Seminary, Baptist Bible Fellowship (Th.D.). He was awarded a Doctor of Literature degree (Litt.D.) by Louisiana Baptist University.
He and his wife, Ileana, are the parents of two sons. Dr. Hymers worked with Southern Baptist churches for many years. He was a long-time member of the First Chinese Baptist Church of Los Angeles, when Dr. Timothy Lin was the pastor. He became a fundamentalist by reading the books and sermons of the late Dr. John R. Rice.
Dr. Hymers is the founding pastor of the Baptist Tabernacle in the civic center of Los Angeles. Known for his strong stand for Biblical inerrancy and inner-city evangelism, he has been in the ministry for fifty-eight years. He holds a Reformed position on conversion, and is a premillennial dispensationalist.
Other links